Co-directors: Julien Guillamat, Annie Mahtani, Wade Matthews.
Members: Arramburu Juan, Bellis Isadora, Bernard-Stento Hervé-Charles, Bousquet Frédéric, Braquart Philippe, Constanzo Rodrigo, Félix Renaud, Ganga Laryssa, Georgel Laurent, Guillamat Julien, Hoffmann Jérôme, Kohn Diego, Mahtanie Annie, Matthews Wade, Valette Julien
BIOGRAPHIES (updating):
Juan Arramburu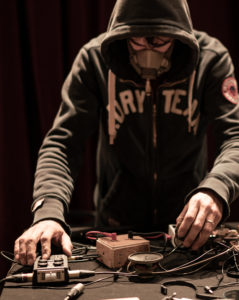 Isadora Bellis
is Composer and Pianist.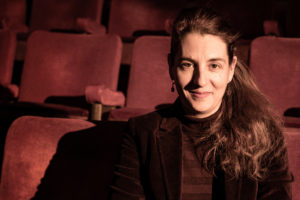 She graduated from the Pantin Conservatory of Music in Electroacoustic Composition, in Instrumental and Vocal Composition, and has a price of Analysis.
Her career in Composition is expressed in fields as varied as Theater, Dance, Cinema, Television, Fashion, Radio and Song (in Japan).
She had a command work of Radio France; made film music, collaborated with the song writers E.Roda-Gil, J.Lanzmann, C.Lemesle, and the film director P.Leconte for the production of  albums.
She creates in September 2018 with C.Lemesle, the anthem of the Movement of Poppies.
She has created many instrumental and electroacoustic pieces, and is now totally involved in free improvisation and live, in acoustic and electroacoustic configuration.
Rodrigo Constanzo makes art.
He thinks this is an important thing to do.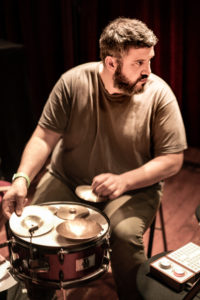 The art he makes is generally smeared in time, in the form of music.
He improvises and acts as an antennae to the beauty, electricity, and endless surprise that is living a crazy life.
He composes and tries to create new sounds, interactions and behaviors that he find interesting and challenging.
He performs his own music and the music of others on a variety of instruments, with close friends.

He believes in magic. He believes in sharing things. He believes in teaching. He believes in openness.
He love sweet jams, and avoids speaking with a complicated vocabulary as much as possible.
He tries to live as presently and honestly as possible.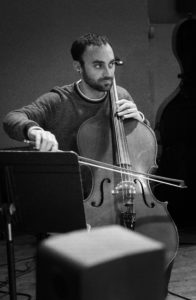 Julien Guillamat is the resident composer of the Opéra-Orchestre national Montpellier Occitanie and founder member of ELEM and E.M.O.
He composes music following the French musical tradition, the grain, the timbre and the color of the sound. Co-founder of the Birmingham Laptop Ensemble (BiLE), he has worked with the Asko|Schönberg ensemble, the Welsh National Opera, the Birmingham Contemporary Music Group, SOUNDkitchen, the OONM among others.
Space is a fundamental element in his work and he performs and spatialises his own and other composers' work around Europe. In 2010, Julien obtained the 1st prize in the performance competition L'Espace du Son in Brussels. He has participated at numerous international conferences and festivals.
After attending the 2012 Academy of IRCAM (Paris), Julien returned to France and founded the loudspeaker orchestra KLANG! acousmonium. In 2014, he became artistic director of maison des arts sonores, a music creation structure based in Montpellier and created the electroacoustic music festival KLANG! He is currently assistant pro
fessor at the Royal Conservatoire, ART2, Mons, Belgium.
Diego Kohn was born in Buenos Aires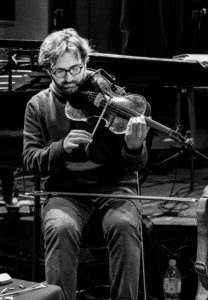 Argentina. Is a multifaceted musician with interests as performer, composer, improviser and mediator.
He obtained diverse diplomas and degrees: Technic in musical production (ORT school Argentina), Licentiate in Music with specialisation in composition (National University of Arts, Argentina), MA in musical performance specialised in Improvisation (Music Academy of Basel, Switzerland). Pursing a MA in Analysis and Mediation of Music theory, with particular focus on the open scores, improvisation and interdisciplinarity.
He had performed in America, Europe, Asia and Middle east. He was founder member of diverse ensembles like the Argentinian Ensemble of Improvisers. He is interested in collaboration with artists from other disciplines like dance, literature and visual arts.
He offered workshops and courses about free improvisation and collective composing in Argentina, Germany, Switzerland, Hong Kong and Israel.
Currently, Diego Kohn lives in Zurich, Switzerland.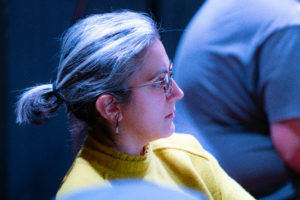 Annie Mahtani is a Birmingham based composer and sound artist. Her music is created from realworld sounds which are then transformed, manipulated and restructured, exploring the juxtaposition of real, abstract and surreal sound worlds. Annie studied composition at the University of Birmingham completing a PhD with Jonty Harrison in 2008 and was a visiting lecturer in composition there for a number of years.
Annie has collaborated with dance and theatre and worked on site-specific installations. Recent projects include Interleave, a Jazzlines commission which explores improvisatory dialogue between technology-driven soundworlds and the archetypal jazz quartet; Lago de Mamori, a 16-channel sound installation using material recorded whilst participating in Mamori Sound Project in the middle of the Brazillian Amazon; Birmingham Sound Matter, a collaborative composition project with Birmingham-based sound artists and composers directed by Francisco Lopez and commissioned by modulate; commissions from Rosie Kay Dance Company as composer for Asylum (2004), Supernova (2008), and 5 Soldiers (2010).
Annie's work has been performed extensively in concerts and festivals in the UK, Canada, USA and across Europe. Her work Past Links received an honorable mention at the 35th International Competition of Electroacoustic Music and Sonic Art, Bourges 2008.
In 2010, Annie founded SOUNDkitchen, a Birmingham based organisation dedicated to promoting local sound artists and composers.
Wade Matthews is a veteran free improviser,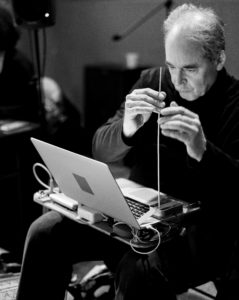 composer and writer. He has been active on five continents for the last 30 years as a free improviser in other electronic and acoustic environments. His doctoral dissertation included a work for acoustic improvisers guided y electronic sounds at the Columbia-Princeton Electronic Music Center in New York. Wade is now based in Madrid, Spain.